Airlines that have been or are interested in Curaçao flights




Finally, in July 2007, (took them a year)
CAP/Alterra saw fit to include flight information on their web site.
Arrivals Departures
on the day we uploaded this news, there were 20 departures and 20 arrivals
Aerolineas Argentinas
In February 2011, or so we're told, an agreement was signed between Aruba, Curaçao and Aerolíneas Argentinas for future weekly flights Argentina-Aruba-Curaçao-Argentina. As from when is yet unknown. In September 2016 still not flying. Don't hold your breath.
Aeropostal
Originally set up in 1928 by a French company for interior services, LAV has long since extended to international flights as well. One of the only two Venezuela air lines allowed to land in the USA (even if I don't understand why.) Although they do seem to arrive like clockwork, with DC-9 turnaround times of about 20 minutes.
Air Berlin
Started flying DUS-CUR in November 2011 with what amounts to a complete guarantee by CTB and Hato airport, but even with a seat occupancy of 80-85% refused to consider a second weekly flight without further guarantees, June 2012.
CTB tried again in a year later, but Air Berlin wanted even more money than the $2.6 million/year they get for the first flight.
In April 2017, Air Berlin announced they would discontinue the flights in the 2016/17 season. Rumors are because CTB was slow in paying the guarantee.
Stopped flying to Caribbean destinations on September 25, 2017. The airline has been declared bankrupt.
Air Aruba
After obtaining the status aparte, Aruba of course wanted their very own airline as well, like any start-up nation.
It has cost them, and us, dearly. They finally gave up and folded, not before they had tried their own fling on the route AUA-AMS.
Air Avia
These Arubian guys started selling tickets AUA-AMS in June 2004, but in July they announced you can get your money back.
I understand they still went on selling tickets for a while, regardless.
Air Canada
Announced opening a Toronto-Curaçao route, starting December 25 2011, weekly on Saturdays. As from 2015, all-year weekly flights (Thursday) Montreal-CUR and (Friday) Toronto-CUR.
Announced 4 weekly flights as from December 2018: 3 from Toronto and 1 from Montréal. In August 2018, 5 flights/week were announced.
Air Century
Announced opening flights to Aruba, Curaçao and St. Maarten from Santo Domingo from June 4, 2018. (They only started 2 weeks later, nice omen.) Flights to Curaçao Monday, Wednesday and Friday at 8:00; St. Maarten: Monday, Wednesday and Friday at 14:15 p.m. and Aruba: Tuesdays and Sundays at 14:15.
Air Curaçao
Set up by supermarket owner Goisco. Applied for diverse licenses March 2005. Intended to start operations with official Suriname flag carrier SLM within a year. Just another name for Curaçao Air.
Aires
Colombian operator with 3 weekly flights BAQ-CUR, Dash aircraft. September 2007 there was talk of Aires being taken over by US Spirit.
Air Holland
After having left a lot of passengers stranded on Schiphol and Hato airports only a few months before, in the first week of July 2004 they announced to resume operations. You were supposed to get a new ticket for your unused one. The competition claimed, not unreasonably, that they were much too cheap at $135 for a return trip.
By December 2004 Air Holland's top executives were arrested because of alleged, as the expression is, drug smuggling and money laundering (and financing the airline with it to the tune of €28M). There was talk about how the airline had been used for drug transports CUR-AMS, about 600 keys of cocaine and, finally but by no means completely, about at least 5000 XTC pills Made in Holland—Sold in Brazil. Striking how drug money somehow always seems to get just wasted.
Air Holland's top managers Cees van Dormael en Paul Gruythuysen were acquitted on 12 March 2008, because the court of appeal "could not rule out that they had earned their money legally."
Air Jamaica
A very familiar story: As far as we know, Air Jamaica was set up by the government, then privatized, then had to be taken over by the government again. Very ambitious - probably much too ambitious. Use Curaçao-Kingston as a feed line to their hub connecting to the USA. In serious trouble by 2006; after a loss of $136M in 2005 a new one of $85M Jan-Aug 2006.
Air Jamaica kept this up until February 2010, when they finally announced operations to Curaçao would stop. Maybe the airline now is definitely broke.

American Airlines
Don't have to tell you about this one, about the biggest in the world.
AA appreciably raised prices since DCA went bankrupt. Several daily flights from CUR to San Juan/Puerto Rico and Miami. American Eagle opens routes Santo Domingo CUR/AUA, 2007. The oil scare of 2008 caused AA to tighten their flight schedule. End 2015, AA added a Saturday flight CUR-CLT.

Air St. Maarten
Another company that has had a web site for years, on which they kept announcing that, shortly, they'd start flying on the mid Atlantic and other airways. If you'd have held your breath, you'd have expired long since.
Their web site is now open and it's just a travel agency where you can book flights with other airlines.

Albatros Airlines
Announced opening a Las Piedras-Curaçao route, starting October 1 2015. Daily flight Monday through Friday.

Aruba Airlines
Started 3 weekly flights AUA-CUR, December 2015. Fleet 3 Airbus A320.
In February 2016 however, a fight broke out in the management and two directors were fired, leaving the airline $6.3 million short. Insurance has to be paid up by February 12 or 147 people will lose their jobs.
Blamed are problems between the shareholders, looting of funds, and numerous debts. Sounds familiar.
Announced suspending all operations May 2016; unknown how long that will last.

ArkeFly
ArkeFly will change their brand name to TUI as from October 1, 2015.
Continued flights AMS-CUR after take-over of bankrupt Holland Exel by German tour operator TUI. After starting out with two weekly flights AMS-CUR, they will go to four in the second half of 2006; no doubt much to KLM's chagrin. In 2009 they announced 5 weekly flights CUR-AMS v.v., 4 from AUA and 1 from BON.

Aserca
Started up in 1968; had a controlling interest in the last years of Air Aruba. Charter flights CUR-Venezuela, AUA-Venezuela. Started 4-weekly line flights Caracas-CUR, June 2007.
Stopped somewhere in between before coming back with an "inaugural flight" in May 2016, first of three weekly flights "Venezuela"-CUR no telling what city.
Announced they would stop all operations except fleet maintenance for other airlines in May, 2018, blaming the bad economic condition of Venezuela.

Atlantic Airlines
Nothing to do with Virgin Atlantic.
This company, also referred to as Air Atlantic, so obscure you won't even find it in the search engines, seems to want to start a regional carrier with bases in Nicaragua and Honduras, with a new involvement by Gelt Dekker after he stopped participating in PIAS. (This tycoon is one of the many deluded ones who think they know everything, proven by the very fact they are rich.) The first charter, early August 2005, did not get Curaçao landing rights; this may take another four or six months. Talk about being presumptuous. Atlantic complains about slow handling of their permit requests in Curaçao and may be retracting from the game; but negotiations with InselAir may result in their starting regional Boeing 737 operations very soon.
In November 2005, Atlantic apologizes for Gelt Dekker's deprecating press utterances on Directie van Luchtvaart. At the same time, their manager postpones a meeting with Curaçao minister Leeflang because of bad weather conditions (actually, weather's just fine). On December 5, in his column in Antilliaans Dagblad, Gelt Dekker alleges a lot of things, accusing minister Leeflang of corruption; Atlantic feels obliged to apologize for the column and emphatically states the facts are different. Leeflang sues for a retraction, wins.
Just to keep everything clear, Atlantic is starting to refer to themselves AA. Nothing has been heard from them since the Gelt Dekker column, anyway.

AVA Airways
AVA Curaçao was started in December 2013 in cooperation with AVA Transportation Jamaica. As of February 2014, both companies are still inactive. Plans were to start flying in June 2014. But it's actually going to be not before a year later.
AVA ran into problems because the government insisted on a list of investors, which is not required by law. While AVA complied, they state permits were still blocked.
AVA was finally licensed by the St. Maarten government in June, 2016. They plan to start operating A320neo aircraft, not telling how many or when.
In July 2018, AVA announced addressing the Common Court of Justice to order the public prosecutor to investigate InselAir, its management and Camelia-Römer.

Avianca
Avianca of Colombia, Aerovías del Continente Americano S.A., is in fact the oldest airline in the world, having changed its company name from SCDTA. (An honor KLM Royal Dutch Airlines disputes, but Avianca still is the same company, albeit under another name. And since KLM fused with Air France, KLM should just shut up and fly.) Avianca also was one of the first airlines to fly to Curaçao, using water-planes.
There have been talks of Avianca taking over InselAir, but they came to nothing. In 2018, Aviance announced 11 weekly flights Bogotá-CUR, starting in August.

Avior
After long negotiations with InselAir, Avior lands on Hato, out of the blue, in August 2006. CTB brags they have given Avior their support in all respects, which results in a price Caracas-CUR that's about half of what other companies charge since DCA's demise - which price was an incredible rip-off. We, knowing CTB and Schotte, can only hope we are not making up the difference.
Be aware that Venezuela's safety record is so bad that most Venezuelan aircraft are not allowed to fly to the USA.
As from December 2017, AVIOR is also banned in Europe for safety reasons.

Blue Skies Helicopters
Set up by Kenneth Leeflang in December 2006, and meant for the tourist trade, it should start operating mid 2007. Pilot and operations manager is George Tielen (not the world's most cautious flyer) well-known for his former Pelican Air, which had to stop operating after he had allowed police to run up a bill for his services that was so high, there was no way to pay it. I don't think the police helicopter that crashed a few years ago when its rotor got tangled up with a kite-wire (this is for real!) was under his personal control.
Blue Skies offers tours where you pass under the Juliana Bridge and over the Emma Bridge, both across the main harbor entrance. Just try to get permission for that in San Francisco with the much larger and higher Golden Gate Bridge. Here, the game is -Anything to attract tourists! Remember the Hudson crash, August 2009.
March 2010 Blue Skies announced they had been inoperative for three months; they will continue car rental operations until January 2011.

B.W.I.A.
Popularly known as Beewee, the Airline of Trinidad and Tobago; like ALM a colonial relic, set up by BOAC. In serious trouble by April 2005, they stopped operating their CUR-Port-of-Spain flights (via Santo Domingo), started in January 2005. After a $26M loss over 2005, in September 2006 the only solution seemed a new start-up under the name Caribbean Airways and firing 700 of the 1700 personnel (later reports mentioned an unknown number of 1900.) Familiar story? Even the name-spoof brings back memories of ALM: But Will It Arrive?

Caraïbische Lucht Transport Maatschappij
Set up by entrepreneur Boebi Kusters, in the 1980s CLTM were still flying freight transports with Curtiss-Wright C-46 aircraft. The enterprise came to an end after the company acquired a Douglas DC-6 aircraft which in the 1980s was seized by Colombia for alleged drug smuggling. When the seizure was finally lifted, the affair had essentially broken CLTM's back. Tough.
The details of this affair have never become really clear. I always had strong suspicions that Colombvia corruption, i.e. ransoming CLTM, was behind it.

Caribbean Airways
Formerly BWIA of Trinidad and Tobago.

Caribbean Star
Antigua operator since 2000; sister of Caribbean Sun. Really affiliated with Atlantic Airlines, they announce a weekly 50 passenger flight Trinidad-CUR as from November 2006 (translated by 'always hopeful' CAP/Hato Airport as June 2006, when they will have their inaugural flight). Two weeks before then, postponed this to November. End October postponed again to December 1, when services started. Caribbean Star & Sun claim to serve 80,000 passengers per day with 18 Dash-8 300 aircraft.
In February, 2007 Caribbean Star ceased to exist and became part of LIAT. In March 2007, weekly flights CUR-POS were reduced to 4.

Constellation West Indian Airlines
As far as we can find out, now SCIAM; a re-name of the company that started as CWIA, which sounded like BWIA (now Caribbean Airlines). Associated with CaribJet of Grenada and InselAir, company was licensed in September and started flying POS to USA and Canada destinations from October.
Started 2 weekly flights to Panamá via CUR last week of June 2007, operated by Primaris Airlines. Had to cancel operations in October, as no aircraft was available.

Continental
Continental announced twice-weekly flights from Newark starting in December 2010, return trip $808; just about twice the price of EWR-AMS. Formerly, they had a Curaçao government guarantee of 60% seats sold, starting on December 17, 2005. Lowest return fare $520.
We have not been informed how much money this guarantee amounts to; no doubt there are reasons.
Even so, with a return trip Newark-Curaçao of 6400km, Continental charged $370 for a flight EWR-AMS of 11720km, which makes the Curaçao flight almost four times as expensive per km. No wonder new tourist deputy declares (March 2006) that they're doing well.
In September 2006, Continental declared they would not need any more guarantees as their occupancy was 70%; the company was even considering doubling the number of flights.
Continental does not fly to/from CUR between April and November. It may still be possible to book - don't do it as you will loose your booking fee. Really.

Condor
German airline, will start flying Frankfurt-CUR November 2018, once weekly.


Conviasa
Remnant of former Venezuela state airline Viasa; still owned by the Venezuela government. Is now flying only interior Venezuelan routes. Announced coöperation with InselAir, January 2007 but nothing much has been heard since.


Copa
The national airline of Panamá. Started executing four weekly flights to/from Panamá on June 10, 2012. Copa is an affiliate of Continental Airlines.
As from July 17, 2018, Copa starts 7 weekly flights.

Curaçao Airways
Set up February 2005 by supermarket owner Gois. Other investors are invited to join the club. They see possibilities in Suriname's airline SLM, who now have three weekly 747 return flights Paramaribo-AMS and three weekly MD80 Paramaribo-Curaçao, but had not applied for a licence by 15 March 2005. Will use MD82 for inter-island flights. May enter partnership with Hamburg International charter company, Germany. Also call themselves Air Curaçao. Nothing more heard until announced ready to start operations, November 2005. Still not active Sept 2006. Guess we might as well forget it.

DAE Dutch Antilles Express (formerly Air Exel)
Announced cooperation with Colombia Aires in October, 2008; starting July 2009 tickets will be sold to ten Colombian destinations with a stop-over in Bogotá.
History: They have been flying CUR-AMS v.v. but have more ambitious plans, seemingly wanting to do exactly what KLM wanted to achieve with their West-Indisch Bedrijf. After bankruptcy, Holland Exel was taken over by ArkeFly, owned by German tour operator TUI, and continues AMS-CUR flights; BonairExel is operating under the name Dutch Antilles Express. It's a very safe bet KLM set up Exel to start competing with ALM/DCA and had to abandon the scheme on their take-over by Air France.
This has resulted in a lot of trouble. DAE was definitely underfinanced in the first years of operating. Their Embraers also seem to have given more trouble than bargained for. After DAE had been forced to lease a Fokker F50 to keep services going, it was finally (March 2006) announced that F100s will be acquired for the middle-distance routes.
Many former DCA workers have applied for jobs at DAE, but their pilots will get only ANG7700/month there, versus formerly 14K with DCA. Also, DAE will not pay training for other aircraft licenses. Ex-DCA pilots complain they would be forced to follow an F100 training course in Holland, while this could be done for a fraction of the price in the USA.
In February 2007 DAE has two Fokker F100s in operation with 6 weekly flights CUR-AUA, 38 BON-CUR with 35% more seats for CUR-SXM, several twice-daily flights/week. From CUR 6 flights/week to Valencia, 12 Caracas, 4 Santo Domingo, 2 Haïti, 2 Bogotá. HQ moved to Curaçao. Got no license for 3 Port of Spain flights/week as yet.
In October, announced cooperation with WinAir.
In February 2008 had many delays caused by mechanical problems and had to comply with Directie Luchtvaart to present a step-plan on how to improve maintenance. This was triggered by questions by Mirna Godett (yes, she was still around!) after a DAE aircraft had landed on one engine. Little does she know... but we knew that already. An investigation left DAE in the clear.
As from April 2008 new lines will be added to Havana de Cuba and Port au Prince, Haïti. In April 2010, Panamá City and Cartagena, Colombia were added.
GOL and DAE are negotiating on future cooperation, and DAE Caracas departures and arrivals are in synch with GOL.
DAE was taken over from Niek Sandman by Arnold Leonora in 2010. In April 2011 DAE announced they had financial problems, but these would not influence safety and operations; nor would personnel risk non-payment.
May 2011 the judge allowed former owner Sandmann a USD1.5m bank guarantee by new owner Leonora. Business seems to be going very bad and DAE is in dire straits. But by December of the same year, a new management has taken over and wet-leased (service-contract complete with crew and maintenance) an MD-83 from Falcon Air; which opens a possible future route to the USA.
DAE went bankrupt in September 2013.

Delta Airlines
One of the larger USA airlines; opened a line Atlanta-Curaçao some years ago, but stopped operations. According to reports, Delta is as good as bankrupt (November 2006) - they're still flying, though.
Resumed weekly Atlanta-CUR in December 2007.
Delta does not fly to/from CUR between April and November. It may still be possible to book - don't do it as you will loose your booking fee. Really.
Delta did re-open their route but at last definitely announced they were closing it down by August 2010.

Divi Divi Air
Was considered small but solid. Have been flying Bonaire-Curaçao since ~2000, and got an airline status in August 2006. With a reputation for flexible schedules and a ten-minute check-in time (which grew to twenty with the new terminal) very popular with regular commuters. Will also start operating to Aruba with 3 Britten-Norman BN2 Islanders and 1 Cessna 402 Executive, with some charter destinations in Venezuela.
Divi had a crash in October 2009 when one engine died and the aircraft started losing altitude too fast to make it to Bonaire (causing suspicions it was overloaded; other rumors are that both engines lost power. Let's wait for the official report, okay?) The pilot could not be rescued, all passengers were; the aircraft has been on the sea-bottom at a depth of 150m but was salvaged for research.

The report was published in May 2011.
The aircraft was overloaded by 9%. The pilot seems to have complained about overloaded aircraft several times before, but flew on when he should have returned after one engine stopped and the aircraft couldn't maintain height. The flight was still over Curaçao island, and should have returned to Hato airport instead of flying on to Bonaire. He then tried to land without extending his flaps and failed to give the passengers adequate information on emergency procedures.
The airline made a habit of filling out the maximum take-off weight on their flight plan, which is an indication that these figures were incorrect and raises suspicions that, in fact, the maximum weight was exceeded. The maximum landing weight was exceeded in over 60% of checked cases; there was no internal control on loading. The company used too low a standard passenger weight of 73kg, following Curaçao safety rules; after the accident this was raised to 80 [still too low.]
These failures should have been discovered and corrected by Directie Luchtvaart, which did an inadequate yearly inspection job. There were discrepancies between the flight safety instruction cards and the life-jackets actually on board.
Bonaire rescue services were inadequate with a lack of coordination.
The investigative committee is "seriously worried" about Curaçao civil aviation inspection and supervision.
more here

In July 2017, Divi Divi acquired 2 Twin Otters to extendCUR-BON service to AUA by Octobver 2017.

Desperate people have been searching this site for Divi's phone number. Call Bai Bini in Curaçao: (+5999) - 888 1050.

E-Liner Airways (AKA DBA (ELA Airlines)
Started operations in 1993 with charters (day tours and sightseeing ops) and cargo flights. 2006: Commuter service BON-CUR with 1 Piper Chieftain Navajo, also uses Piper Seneca II. Reservations Caribbean Jet. Phone +(599-9) 888-1089. And good luck!
In fact, E-Liner Airways is a brand name of Cubajet, so don't ask me what's going on here.
Estelar
Venezuelan company, started operations in 2009 with charters and regularly visited Curaçao. After DAE was forced to stop flights CUR-Venezuela, Estelar announced starting two regular flights per week.
Exel
Former Dutch airline with a very short existence; routes taken over by Arke and DAE.

EZ Air
Allied with Kinikini Air Express, plans to operate between the Leeward Islands with later extensions to Trinidad, Haïti and Santo Domingo.
Plans to use Britten-Norman Trislanders (of which production stopped in 1983). I've always had this gut feeling it would never fly.
Seem to have been wrong. They have bought two Islanders and a Piper Navajo; don't seem to have a website. Operations, based on Bonaire, start May 2008 with one aircraft flying four daily trips BON-CUR. We'll keep you posted as more info comes in. They're flying and call themselves "the only airline located in Bonaire".
All over and done with, they never really got off the ground, huh huh. (I was wrong there.)
(What I can't understand is why they'd call me Buck Rogers 2. Must be my lack of humor?)
Update, and good for them, too!
In June 2018, PCN (pension fund Dutch Caribbean) decided to invest in EZ Air. Two Beechcraft 1900D aircraft (former owner Air Canada Express) will shortly start flying between Bonaire and St. Eustatius. They will also be used for medical flights to Colombia. Total investment 5 million dollars.
Boss René Winkel has been running Medicair since 2000; ambulance flights BON-Colombia.
Fly All Ways
Surinam airline started in January 2016 but stopped operation just over one year later. They had flights to Curaçao and St. Maarten but we missed out on noticing. Maybe that's why they lost a lot of money (but I honestly don't think we're that important).
Announced opening a twice-weekly flight Curaçao-Paramaribo in June 2017, after having wet-leased one of their aircraft to Insel Air early in the same year. Look for them on FakeBooc.
GOL
Brazilian low-cost carrier recently fused with VARIG). They wanted to make Curaçao a hub between Latin- and North America. Behind this seemed to be their order of 150 Boeing 737 aircraft just before the December 2009 financial crisis. This forced GOL to extend their market outside Brazil; with a refueling stop in AUA or CUR they can offer flights Brazil-USA. GOL is associated with Air France (KLM).
However, FOØL minister Adriaens stipulated they had to cooperate with one of our 3-plane companies, so Hato airport misses out on a 50% traffic and services increase. Later, however, Adriaens said it was OK as long as they didn't fly between the Kingdom ("cabotage").
First GOL flight CUR-São Paulo-AUA-CGH was supposed to take place on July 4 2009, but these are charter flights only. After negotiations between GOL and DAE, GOL seems to have chosen InselAir to do business with. Later, CAH tried to blame MAN's Cooper for the debacle.
In November, 2011 GOL announced to have chosen for Santo Domingo instead of Curaçao.
In August 2014 KLM announced plans to work with GOL via Bonaire Flamingo Airport.
i-Jet
Started offering CUR-MIA tickets for a reasonably decent price in 2005. Never made it; small wonder, as they were established by the former manager of Dutch Caribbean Airlines.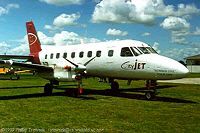 Embraer @ DiggerHistory
copyright © 1999 by Phillip Treweek
InselAir
In October 2008, InselAir announced opening routes to Miami (4 weekly flights from November 21) and, as from April 2009, Puerto Rico.Insel now conforms to the rigorous US FAA standards.History: Run by former DCA/ALM and Air Holland Edward Heerenveen, who wanted to represent Avior/Venezuela here.
Avior is a profitable company with the problem they're only allowed fly routes touching down in Venezuela. Plans to take over the former DCA routes. At least according to Asjes (not very reliable), in July 2005 Avior claims they haven't heard from InselAir for months. Pops up again November 2005 to announce being ready for inter-island operations with a 19 passenger Embraer Bandeirantes. Was also negotiating with Atlantic on cooperation for regional B737 operations.
Seems to be about to start operations, March 2006. First Embraer Bandeirante turboprop, Insel livery with Venezuelan registration, arrives on Hato airport, June 3. Got operating license on 11 August 2006 and will start operation September 2.
Plans four daily flights to Aruba, and as many to Bonaire after two more Embraer have been delivered. A separate license for MD-80 operations (in cooperation with SLM) to start flying CUR-SXM followed the day after operations started with 2 daily flights CUR-AUA, but the judge put a stop to that and InselAir must wait for their own MD82.
The week after, InselAir asked, AND GOT, a new permit for six weekly flights on the same route, this time keeping it a secret who their partner is. Minister Gijsbertha retracted the permit - after InselAir was promised delivery of a second-hand Croation MD-82 in the first week of October (it had not arrived yet by half October, with no info about cause of delay, which then seemed a couple of months.)
There is legitimate cause to worry about the Venezuelan registration of InselAir aircraft. InselAir was very secretive about 'hidden partners', one of which must be Adriatic Air. So much for our new National Carrier, as they call themselves.
First MD-82 PJ-MDA arrived 24 December 2006; InselAir restarted former Caribbean DCA routes in January, 2007.
Later that month, announced collaboration with Venezuela, Conviasa (the national [=Chavez] carrier of Venezuela, Surinam SLM and Windward Islands WinAir. The conglomeration is called 'Pan-Caribbean Alliance' (strictly, only half of them are Caribbean). But in October 2007, a cooperation between DAE and WinAir is announced. Even though InselAir carries a banner 'Ariba Korsow' [up with Curaçao] on their web site, it looks like they're hardly more Curaçao-owned then other operators.
August 2007 added 4 weekly flights to POS, Trinidad, in combination with SLM. Opened a line to Manaus, Brazil, September 2007. Finally started flying to Miami in 2009, and bought an old MD-84 to cannibalize for parts.
InselAir has a separate web site for their freight operations. An MD83 arrived in April, 2008 and became operational in June, bringing the total of aircraft to 2 MD8x and 2 Embraer Bandeirantes.
Declared 2 million profit over 2008 and will add a fourth MD-82; now is licensed to fly to USA and Europe. Will open lines to MIA and MCO in 2009.
But Amigoe newspaper published they had really made a loss, basing their calculations on Hato passenger figures, Insel went to court to try and force a correction. They lost.
There have been many complaints from InselAir passengers, for example by ms. Roosberg (Amigoe November 11, 2009) about the ventilation in an aircraft not working on as CUR-AUA flight. When she complained several times, she finally was informed that, for Antillians, it was "normal to travel with a wash-cloth to wipe off sweat." No kidding.
Insel announced a cooperation with USAir, but results seem pretty vague. In May 2010, a cooperation was announced with Brazil GOL.
Starting 27 March 2011 Inselair and KLM have an Interline agreement for all Inselair destinations.
In July, Insel took over 4 Fokker F50 aircraft from KLM and opened several new routes.
November 2011 Insel-Air announced to have obtained the IOSA-certificate (IATA Operational Safety Audit) and can thus claim the highest safety level of airline operation.
In January 2014 InselAir announced a "renovation and expansion" of their fleet, which consisted of adding more geriatric planes and replacing some with, maybe, slightly newer ones.
After having allowed a Venezuelan debt to grow to USD100,000,000 InselAir finally got in such deep troubles that in 2017, it was announced that the government would inject more capital into the company. In consequence, it would become 51% government-owned. InselAir had 2 Fokker F50s left in service in June 2018, and then announced they would resume flying to Venezuela.
In July 2018, when Insel had one F50 left and started wet-leasing another aircraft, One Laser Group from Miami announced they will invest $20 million in InselAir and get 49% of the shares.
interCaribbean Airways
Turks and Caicos-based interCaribbean Airways announces they will start flying CUR-Kingston. A new 50-seat Embraer 145 jet will soon join the company's fleet of Twin Otter and Embraer 120 planes.
JetBlue
Started flying CUR-JFK New York in December 2013 twice a week, Tuesdays/Saturdays. In October 2015, JetBlue announced starting with three weekly flights. In December 2017 a 4th flight was announced: Mondays, Tuesdays, Wednesdays and Saturdays.
Kinikini Air Express
Nothing much known about these guys, except they're somehow affiliated with EZ Air.
KLM
Royal Dutch Airlines
KLM must have been just as sad as the rest of us to watch ALM and its successors spiral down the drain.
They now seem to want to make a come-back with Curaçao Air. Or, maybe, something else. After several premature announcements their present idea is to start a new regional carrier in the first quarter of 2005. Still not clear what their intentions are by August 2005. Although it's pretty obvious that they were involved with Bonaire- and all the other Excelling Expresses, they may have no more such ambitions since their take-over by Air France in 2004. By November 2005 it looks like pretty definite that KLM will not start another local company.
KLM announced they will reduce AMS flights to the N.A. from 12/week in the second half of 2006, mainly because of growing competition from ArkeFly and their own Martinair.
In December 2006 Air France declared KLM's Caribbean-Europe connections 'domestic flights', just like the French flights had always been, and KLM had to lower their exorbitant baggage charges, still much higher than those for American carriers. KLM announced making Bonaire their maintenance center, and changing from 747 to MD11 for their, as from March 2007 daily, CUR-AMS flights. Investigating possible line AMS-CUR-Panamá, July 2007.
IMPORTANT NOTICE about fake or sponsored low cost airlines
ETN is very suspicious about low cost airlines which are only started by a major, high-fare airline to protect their high-fare business against the real low cost airlines like Ryanair and Southwest!
Very often these fake or sponsored low cost airlines are closed down once they have pushed their truly low cost competitors out of business! If their low cost competitors are gone, the high-fare mother has again a monopoly and keeps the fares (often too) high.
KLM (with BuzzAway) and British Airways (with GoFly) have already tried this trick but luckily failed.
(But KLM is still on ETN's list with Transavia, and also tried this with Exel.)

Starting 27 March 2011 KLM and Inselair have an Interline agreement for all Inselair destinations.
Claim It!
As EU-registered airlines, KLM and MartinAir have to pay compensation to all passengers
all over the world in case of delays, rerouting and flight cancellations.
You can file your own claim or fill out a form at EUclaim
who will handle it (no-cure-no-pay) for a reasonable percentage.
Laser Airlines
Operating from Venezuela, Laser started two weekly flights Caracas-CUR in August 2018.
Martinair
Dutch former charter company, MAC Martin's Air Charter, now a full-blown airline registered in the EU; as far as known fully owned by KLM, resumed flights AMS-CUR in November 2006, twice weekly, MD-11. From April 2007, three weekly flights. As fas as I know, these stopped long ago.
Aerolineas MAS
Operating from the Republica Dominicana, MAS started two weekly flights Santo Domingo-CUR in Ocober 2014.
NCA Northeast Caribbean Airlines
Specialized in charter flights, wants to use Curaçao as a hub for North and South America, Africa and Europe, starting in July 2004. Claim to have three 747s which Hato Airport can accommodate. May start executing CUR-AMS flights for DCA or other operators. Then again, they may not come here at all and haven't arrived here yet. As it turns out, the FOL cabinet just buried their submission deeply in a drawer. They were then talking about starting operations around 15 October, 2004. But with what certainly looks like heavy in-fighting this seems nothing but yet another fly-by-night operation.
Northeast Airlines, as the company is now called, announced in February 2005 that they were still planning to move their operations to Curaçao from Mbabane, Swaziland. They said their dealings here last year had been with a swindler (like will to like?).
PAS
Professional Air Services
Nothing known about this company, except that it is not actively flying.
PAWA
PAWA Dominicana
The flag carrier of Dominican Republic (definitely not Pan American World Airways who expired long since). Started flying CUR-Sto. Domingo Monday, Wednesday, Friday and Sunday on August 14, 2015.
PIAS
(which is a Dutch version of the French word paillasse, clown) stands for Pont International Air Services. These Surinamese guys seem to fly from Nigeria to the USA and Canada - via Europe. They think it might be cheaper to fly over Curaçao. Did they just now buy a globe or what? They, too, are willing to take over the AMS-CUR flights.
Everybody seems to like that one. Not actively flying. Tycoon Jacob Gelt Dekker announced negotiating with them to form a regional carrier and they seem to have applied for a licence. Gelt Dekker is said to have withdrawn by July 2005, and instead took up with Atlantic. By November 2005 PIAS seems to have 'disappeared'.
Royal Aruban Airlines
In Holland, you need a permit from the royal family for such a brand name, but in Aruba anything seems possible.
Anyway, for years these guys have kept popping up and going under again like a fisherman's float (but never getting more than nibbles.) Finally it turned out they were yet another cover for Air Holland's activities. In serious problems by March 2005. Declared bankrupt, December 2005, in a cloud of corruption involving Suriname and Aruba officials. Personnel, not having received their salaries for 15 months, started yet another company World Aviation Group.
Rutaca
Venezuelan Rutaca starts flying Caracas-Curaçao on 2014-08-28, twice weekly (Thursday/Sunday). Tickets can be bought at Despegar.com.
Both these sites have dropped out of the air (June 2018)
SkyHigh
An airline operating out of Santo Domingo, has been flying to Curaçao since April 2018. In June 2018 changed schedule to make a stop in Kingston, Jamaica. Twice-weekly.
Not to be confused with the hoax site set up by Alaska Airlines.
Sunrise Airways
Announces flights PAP-CUR in October, 2017, executed with an Airbus A320..
In actual fact, the inaugural flight arrived on November 28. Two flights per week, Thursday and Sunday, are planned.
In June 2018 Sunrise announced flights Sto. Domingo-CUR as well.
SLM Suriname Airlines
Official Suriname's flag carrier, mentioned as a contender for the CUR-AMS route and, lately, as a partner in Air Curaçao, set up by supermarket owner Goisco. As of September 2005, seems to be a serious contender for the routes MIA-CUR. Supposed to start flying PBM-CUR-MIA via Haïti twice weekly as from October 2005, with a temporary 6 month licence; price about twice that of AA's. But their own web site never even listed the flight or the route, which never was inaugurated. Maybe the USA did not allow SLM to land in Miami for the same safety reasons they apply to Venezuelan flights.
In the last week of September 2006, after the deal with InselAir fell through, SLM was in serious trouble, with talk of a salary cut of 25% and of firing at least 100 of their 700 workers (for two aircraft, one of which was just sitting at Hato airport for 4 days per week.) 'Officially', SLM has three MD82 flights per week PBM-CUR, but you can't book those on their site.
Half November 2006, KLM was blamed for a threatening SLM bankruptcy, as the B-747 and MD-82 bought from them were much too expensive. So much, of course, for InselAir's grandiose plans as well; until in February 2007 Curaçao minister Leeflang gave InselAir and SLM a joint monopoly on the CUR-PBM route until 2008.
Final demise? SLM subsidies were stopped abruptly in June 2008; last flight AMS-Paramaribo June 20.
But they are still flying; by December 2011, they use 2 Boeing 737-300s and 1 Airbus A340-300.
Sunwing
Sunwing operates from Canada and started weekly Sunday flights Toronto-Curaçao in December 2013.
Spirit
US budget operator, located in Fort Lauderdale, Florida. September 2007 there was talk of the company taking over Aires.
TACA
Operating from El Salvador, in March 2007 TACA announced interest in opening a line Panamá-CUR and did so.
SXM Airways
Management consists of ex-Winair managers. Looks like the line, operating from St. Maarten, will be in direct competition with Winair. No permits yet.
TAM
Economy minister Hakim started negotiating with this airline (the largest in South America and like Hakim adds, in Brazil—no surprise there) in April 2011. Now known as LATAM.
TransCaribbean Airways
Not actively flying. Got an economic licence to operate in March 2005. Call themselves National Flag Carrier of the N.A. and have ambitious plans. (The N.A. as from July 2007 may consist of St. Eustatius island only). Reported to have great financial problems by November 2005. In January 2006, a co-operation was announced between TCA and Sita for a booking system. TCA also wants to start a Curaçao maintenance facility with Airbus. But in February 2006 the US government questioned how a $500K subsidy for training had been used by TCA; 46 trainees supposedly had received over 336 hours of training a month, which is more than 12 hours/day. TCA has been presenting grandiose schemes since 2004, none of them realized.
Tiara Air
Aruba; 2 Short 360-100 aircrafts, 33 passengers; 3 daily flights to Curaçao and also flights to Bonaire and to (some of the following planned) Las Piedras, Valencia, Barquisimeto, Maracaïbo, Santa Martha and Barranquilla. Started operations April, 2006. Was grounded for a week, later extended to a month, by Aruba aviation authorities, March 2007.
Phone (297) 582-0901 or (297)-58TIARA
After several years of operating Shorts, Tiara acquired a 737-300 with which they plan to start flying in September 2012 serving North and South American markets.
Stopped operating in 2014 because of money problems; announced a restart in 2015. After executing one more flight in April 2016 their plane was grounded; looks like the end.
In July 2016, workers wanted to start bankrupt procedures to try and get their salaries.
Court declared Tiara Air bankrupt on November 28, 2016.
Transat Airways
Starting weekly return flights Toronto-CUR every Sunday from December 20, 2015 to April 3.
TransCuraçao Airlines
Fausto Balentien applied for a license in February, 2014 but the company was not yet registered with KKN Chamber of Commerce.
TUI
German tour operator; took over Holland Exel after its bankruptcy and started operating it as ArkeFly. That brand name will disappear as from October 1, 2015 and be replaced by the TUI brand.
Everybody keeps calling TUI Arke, though. TUI doesn't like to pay €U fines for arriving too late on their destinations, so they give an ETA that gives 'em much leeway, causing much grief to people who arrive much earlier than expected and then have to wait to be picked up.
United Airlines
United flies from EWR Newark NJ to CUR and back every Wednesday.
VARIG
Formerly Brazil's flagship carrier, Varig, after years of financial woes, was bought up in 2007 by Brazilian Volo and low-cost carrier GOL. In the 1980s Varig used Curaçao as a stop on their Rio de Janeiro-New York flights.
WestJet
Canadian operator; opened a weekly service Toronto-CUR in Oactober 2012.
WinAir
Windward Island airline (started 1961), taken over Exel who never signed the final take-over agreement. In October 2005 the Antillean government decided the airline would be transferred to the Windward islands of St. Maarten, Saba and St. Eustatius, who will run it in the future. Just like DCA, WinAir never bothered to pay social securities and employees' taxes. Promising, as the company will after all not be privatized.
St. Maarten politicians feel that this take-over has been forced through, and that a claim should be put in to Exel (Bonairiaanse Participatie Maatschappij) for not complying with their promises. Meanwhile, the three windward islands do not have the money to operate the airline, either.
In October 2006 there were claims several local groups were interested in taking over, besides DAE, Caribbean Star and 'a Canadian group'. Is in more or less chronic trouble because of insufficient number of pilots, who prefer being paid well elsewhere.
In October 2007, there is new talk of an extended cooperation with DAE.
As from June 3, 2017, WinAir announces plans to start flying PAP-CUR-SXM.
In August 2017 WinAir flew 3 times per week CUR-SXM, which was extended to 7 flights, 3 over AUA and 4 over BON starting July 2018.
SEARCH this site or the Web





copyright notice
all material on this site, except where noted
copyright © by , Curaçao
reproduction in any form for any purpose is prohibited
without prior consent in writing